TAP DAY AT THE FAIR! MN State Fairgrounds
September 2, 2018 @ 10:00 am

-

9:00 pm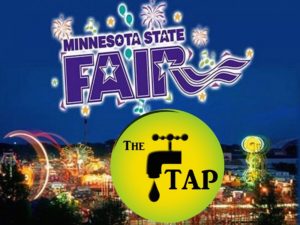 A TAP DAY AT THE FAIR!
HEY TAPPERS!
WE HOPE TO SEE MANY OF YOU OUT AT THE MINNESOTA STATE FAIR ON SUNDAY THE 2nd! OUR FRIENDS FROM KOBE JAPAN HAVE INVITED US TO JOIN THEM FOR A DAY AT THE GREAT MINNESOTA GET TOGETHER. IT'S GOING TO BE A SUPER FUN DAY!
HERE'S THE PLAN…
——————————————
SUNDAY SEPTEMBER 2
WE'RE MEETING BY THE SPACE NEEDLE AT 10:00am
A TAP FRIEND WILL REMAIN AT THE SPACE NEEDLE UNTIL 11:00am, SO DON'T WORRY IF YOU'RE RUNNING A LITTLE LATE.
——————————————
IF YOU COME OUT TO THE FAIR LATER, OR IF YOU'RE HAVING TROUBLE FINDING US, YOU CAN FACEBOOK MESSAGE TAPPER JOHN,
OR CALL 612-396-4863
——————————————
THE FAIR IS BUSY, SO WE WILL LIKELY BREAK UP INTO SMALLER GROUPS.
COME FOR THE ENTIRE DAY, OR JUST PART OF IT.
TAPPER JOHN WILL BE POSTING ON THE YOURTAP NEWS AND EVENTS FACEBOOK PAGE THROUGHOUT THE DAY.
–> WEAR YOUR TAP SHIRT IF YOU HAVE ONE! <–
——————————————
NOTE
THIS EVENT REQUIRES A TICKET TO THE FAIR AND FUNDS YOU WILL NEED FOR FOOD AND ACTIVITIES.
——————————————
SEE YOU AT THE FAIR TAPPERS!!!
YOU CAN FIND ALL OF OUR EVENTS ON OUR WEBSITE AT WWW.YOURTAP.ORG OR ON FACEBOOK.